See on Scoop.it – Amor Tierra Gaia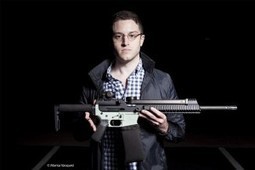 The world has gone a little haywire — sometimes for better, sometimes for worse. Here are the 15 people most responsible for making it that way.
Despertar_BCN's insight:
Cody Wilson, a 24-year-old law student at the University of Texas, didn't invent the concept of printable, downloadable guns. He's only created the first platform devoted to sharing the blueprints online for free to anyone who wants one, anywhere in the world, at any time. Wilson and his group of amateur gunsmiths, known as Defense Distributed, are also currently working on producing what may become the world's first fully 3-D printed gun, which they call the "Wiki Weapon." If it's successful, and on a long enough timeline, it could change the way we look at guns — and make them.
But realizing this hasn't been easy. After leasing a 3-D printer from additive manufacturing firm Stratasys in late September, the company got wind of Wilson's plans and revoked its lease, then quickly dispatched a team to Wilson's apartment to seize the machine. "They came for it straight up," Wilson told Danger Room after it happened. "I didn't even have it out of the box." He's been questioned by the Bureau of Alcohol, Tobacco and Firearms over concerns he may violate federal law. Wilson has since sought a firearms manufacturers license from the ATF, which has yet to be approved, and has secured access to printers from a sympathetic company in the Austin area, plus a range in San Antonio where the group tested its first prototype. That prototype only lasted six shots, but the possibilities being introduced are huge. What happens to gun control when anyone can download and print a gun with their computer?
Wilson and the Wiki Weapon project have also become something of a test case for how far a group can push those legal limits. "It is just a matter of time before these three-dimensional printers will be able to replicate an entire gun," Rep. Steve Israel (D-New York) said in December while urging for a renewal of the Undetectable Firearms Act, which outlaws guns that can defeat airport metal detectors. Josh Horwitz of the Coalition to Stop Gun Violence, wrote: "The Wiki Weapon project is not the work of a dispassionate techie seeking to push the outer limits of modern technology. Instead it is a blatant, undisguised attempt to radically alter our system of government." That may actually be true. "How do governments behave if they must one day operate on the assumption that any and every citizen has near instant access to a firearm through the Internet?" Defense Distributed asks on its website. The answer may only be a matter of time.
See on www.wired.com